How EHR Technology Definitions Influence EHR Use Statistics
EHR adoption facts and figures are on the rise, but a closer inspection reveals disparities.
Source: Thinkstock
On a near-annual basics, federal agencies provide updates on EHR adoption that serve as a bellwether of the healthcare's industry technical capabilities, most notably the Office of the National Coordinator for Health Information Technology (ONC).
However, reliance on these facts and figures can be problematic as a result of varying definitions of EHR technology.
As recently as May 31, ONC published EHR adoption data via the Health IT Dashboard reporting that 83.8 percent of hospitals were using a basic EHR system and that 96 percent possessed a certified EHR technology.
At first glance, the two figures are significant. A reader could easily infer that hospital EHR use is near ubiquitous. However, upon further review, that is not the case. The proof is in the pudding and the pudding is semantics.
Dig Deeper:
What is a basic EHR?
The ONC data brief serves as a cautionary tale into health IT statistics. In this case, word choice is at the crux of the matter.
Semantics are important to understand why those two percentages are difference and how their significance matters, and a reader is forgiven for misreading them and then scratching her head.
The appendix to the brief clearly indicates the EHR functionalities warranting whether an EHR system is basic or comprehensive — certified EHR technology needs to wait a moment.
According to the federal agency responsible for promoting provider health IT use, a basic EHR system includes the following EHR functions:
Patient demographics
Problem lists
Medication lists
Discharge summaries
Computerized physician order entry for medications
Viewable lab, radiology, and diagnostic test results
In comparison, a comprehensive EHR has the following EHR functions in addition to the aforementioned:
Physician notes
Nursing assessments
Advance directives
CPOE for medications for lab reports, radiology tests, consultation reports, and nursing orders
Viewable radiology images, diagnostic test images, and consultant reports
Decision support of clinical guidelines and reminders, drug allergy results, drug-drug interactions, drug lab interactions, and drug dosing support
On the one hand, the EHR captures simple structured data. On the other, this structured data has the support of additional images and information. In neither case is the capacity for EHR interoperability and health information exchange a defining feature.
Then comes the matter of possession of certified EHR technology, or CEHRT. ONC defines CEHRT as "EHR technology that meets the technological capability, functionality, and security requirements adopted by the Department of Health and Human Services." That's not much to go.
The ONC definition, however, does indicated that CEHRT "includes the capability to securely work with other certified EHR systems to share information (interoperability)." (We'll return to this capability later on.)
Additionally, the federal agency provides an explanation of CEHRT possession as "either the physical possession of the medium on which a certified EHR system resides or a legally enforceable right by a health care provider to access and use, at its discretion, the capabilities of a certified EHR system."
Possession may be nine-tenths of the law in criminal law, but in a healthcare setting it means nothing unless it contributes to care delivery and coordination in the pursuit of improving patient outcomes.
In the example of hospital EHR adoption, these healthcare organizations have ready access to EHR technology for documenting the basics of patient care yet lack the ability to exchange this information with other providers. For patients receiving care from disparate providers, this should not come as a relief. Given the growing emphasis on use cases for current and nascent technology, the takeaway from this ONC data brief is that its findings are relatively meaningless.
Dig Deeper: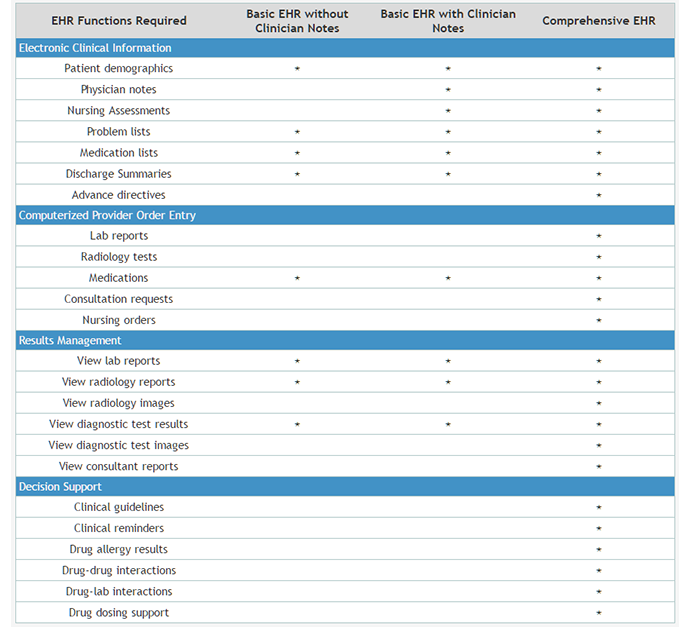 Source: ONC
What is certified EHR technology?
Part of ONC's work on EHR (now health IT) certification includes providing updates to the definition of certified EHR technology. In the past, this definition was essentially to eligible professionals and hospitals working to receive EHR incentive payments as part of meaningful use and the EHR Incentive Programs.
In its most recent update to EHR certification, the federal agency moved away from a strictly EHR-centric definition to a more expansive definition of EHR and health IT. As opposed to prior definitions of base EHR technology, the most recent version differs in the following ways (per the final rule):
It does not include privacy and security capabilities and certification criteria.
It only includes capabilities to record and export clinical quality measure (CQM) data (§ 170.315(c)(1)) and not other CQM capabilities such as import, calculate, and "report to CMS."
It includes the 2015 Edition "smoking status" certification criterion as patient demographic and clinical health information data consistent with statutory requirements.
It includes the 2015 Edition "implantable device list" certification criterion as patient demographic and clinical health information data consistent with statutory requirements.
It includes the 2015 Edition "API" certification criteria as capabilities that support both the capture and query of information relevant to health care quality and exchange electronic health information with, and integrate such information from other sources.
It includes the proposed 2015 Edition certification criteria that correspond to the remaining 2014 Edition certification criteria referenced in the "2014 Edition" Base EHR definition (i.e., CPOE, demographics, problem list, medication list, medication allergy list, CDS, transitions of care, data portability, and relevant transport certification criteria). For the transport certification criteria, we include the "Direct Project" criterion (§ 170.315(h)(1)) as well as the "Direct Project, Edge Protocol and XDR/XDM" criterion (§ 170.315(h)(2)) as equivalent alternative means for meeting the 2015 Edition Base EHR definition.
The new definition is essential to the federal agency's mission to separate EHR and health IT certification from the EHR Incentive Programs considering that these technologies are used by more than meaningful users.
"The CEHRT definition has always been defined in a manner that supports the EHR Incentive Programs," ONC wrote in the final rule for 2015 Edition Health IT Certification Criteria. . As such, the CEHRT definition more appropriately resides solely within the EHR Incentive Programs regulations. This is also consistent with our approach in this final rule to make the ONC Health IT Certification Program more open and accessible to other types of health IT beyond EHR technology and for health IT that supports care and practice settings beyond those included in the EHR Incentive Programs. Further, this adds administrative simplicity in that regulatory provisions, which EHR Incentive Programs participants must meet (e.g., the CEHRT definition), are defined within the context of rulemakings for those programs."
In many ways, the definition of certified EHR technology is a moving target — and rightfully so if the purpose of defining CEHRT is to keep pace with the evolution of health IT.
Benefits of EHR use still prove meaningful
For those potentially disappointed by the subtle nuances of EHR adoption statistics, EHR use remains a characteristic of high-performing medical organizations.
For one, the presence of an EHR correlates to team-based medicine. Last December, a study published in the American Journal of Managed Care found that three-fourths of practices that employ advanced practice providers, such as nurse practitioners and physician assistants.
Using results of a large-scale national survey from 2013, the researchers concluded that those practices that employ these types of healthcare professionals are indeed more likely to adopt EHR technology, noting that the presence of EHR technology allowed physicians to delegate EHR-related work more easily.
That same journal published research finding a correlation between EHR adoption and improve clinical workflows for nursing staff. Researchers noted that EHR adoption led to improvements in several clinical quality measures, such as fall rates being reduced by 15 percent.
Additionally, research in the selfsame journal noted that advanced EHR use was tied to lower per patient costs.
Mark Twain famously include statistics in his diatribe about lies, which could very well be extended to definitions of EHR technology and their influence of national statistics.
Dig Deeper:
Sign up to receive our newsletter
and access our resources