Accountable Care Organization EHR, HIE Use by the Numbers
EHR and health information exchange technology have important roles to play in ensuring that accountable care organizations can coordinate care for patient populations.
- Over the past handful of years, the number of accountable care organizations has increased dramatically and projections foresee continued ACO growth.
According to Leavitt Partners, the preceding year closed with 782 ACOs in operation and the number of lives covered by ACOs totaled an estimated 23.2 million. What's more, the federal government's commitment to value-based reimbursement — such as Medicare Access and CHIP Reauthorization Act (MACRA) — is fueling prediction of 500-percent growth in lives covered by ACOs by 2020.
The future of ACOs remains to be seen. The Centers for Medicare & Medicaid Services (CMS) continues its support of accountable care, most recently with the unveiling of the Next Generation ACO model and its 21 participants. The new announcement brings the number of CMS ACOs to 477 across four program types.
Beyond federal incentives, realizing triple aim — improving the patient experience, population health, and cost of healthcare — is leading many healthcare organizations, both payers and providers, to implement models of coordinated care across the country.
Essential to models of accountable care is the ability to manage individual patients and patient populations. Health IT, particularly EHR technology, has an important role to play in ensuring that members of the care team have access to pertinent health information across the care continuum. Additionally, care coordination requires that this information be able to move securely between providers — health information exchange.
The following data comes from a technology search of ACOs with EHR and HIE applications of the Definitive Healthcare database. The results for EHR technology yielded 408 ACOs (208 commercial; 200 public); the results for Health Information Exchange (HIE) technology, 538 ACOs (317 commercial; 221 public). Public ACOs organizations in the Medicare Shared Savings Program (MSSP), Pioneer ACOs, Medicaid ACOs, and Next-Generation ACOs.
The leaders in ACO EHR technology are recognizable names. For both commercial and public ACOs, Epic Systems is the hands-down leader. Competition appears after the big two with the likes of Allscripts, NextGen Healthcare, McKesson, and MEDITECH provided the EHR platform for these ACOs to document the digital health of their patients.
While EHR vendors can also double as Health Information Exchange vendors, that is generally not the case for both commercial and public ACOs.
Particularly on the commercial side, HIE technology comes from a number of health IT vendors. Epic Systems and Cerner Corporation still number among the leaders, but other companies specializing in health data exchange also feature. Medicity, Iatric, and RelayHealth count dozens of ACOs as their clients. The public ACO HIE market appears to be a two-horse race well in the favor of Epic Systems.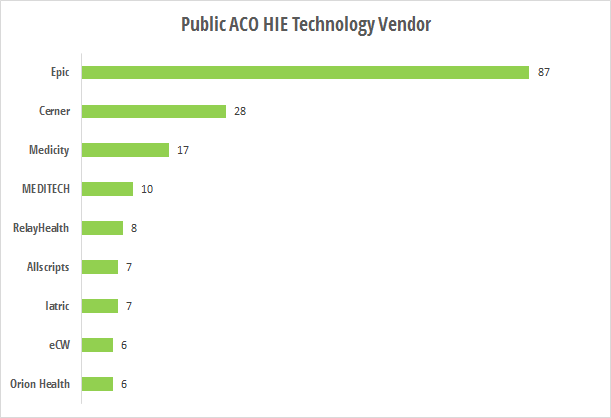 With most the same players in place, ACOs are likely to face similar challenges relative to interoperability. A recent survey by Premier, Inc. and the eHealth Initiative revealed that ACOs were experiencing continued difficulties with data capture and governance, interoperability, and healthcare analytics.
With the number of ACOs in operation expected to grow, these growing pains becoming intensified is to be expected. That being said, the risk-based arrangements have in place much of the requisite technology for ensuring the flow of health data from provider to patient and provider to patient.