athenahealth, Epic Systems Trade Health Data Exchange Barbs
Epic Systems has responded to comments recently made about its health data exchange efforts by the head of athenahealth.
- The two companies with contentious history around health data exchange are again engaged in argument over Epic's role in supporting information sharing.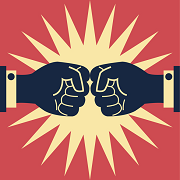 Last week, Epic Systems issued corrections to a recent interview athenahealth CEO & President Jonathan Bush gave to MedCity News in which he made several pointed remarks about Epic's role in holding back health data exchange. The interview in question appear in late September.
In its "Epic Fact Check," Epic took umbrage and refuted four specific comments Bush made last month.
The first is the claim that the Verona-based EHR company has only recently started to connect Epic and non-Epic customers:
MedCity – "If you were a CIO, what would you ask of Epic?"
Bush – "I think I would ask them to connect and that's starting to happen."
False – Epic customers have been exchanging patient records with others since 2008. 100% of Epic's live customers are able to connect with other groups that use either Epic or non-Epic systems.
READ MORE: US Coast Guard Searching for Commercial EHR to Replace Epic
The second is along the same lines and pertains to when Epic and athenahealth starting bridging Epic hospital connections with athenahealth practices in particular:
Bush – "What we're doing now is that we are connecting to most of the Epic hospitals in the country and that's been something that Epic has just allowed us to do in the last couple of months."
False – Epic and athenahealth sites first connected in May 2014.
Another of Bush's claims that Epic refuted is athenahealth's growth in the retail clinic space:
Bush – "Well for seven years, they told us to pound sand and (then) a series of events built. We've been getting more and more of the retail clinics, and the hospitals that are on Epic have been more and more needy of those referrals."
False – Over 80% of the retail market, including Walgreens and CVS, is running or installing Epic.
Lastly, Epic clarified that the company was never the recipient of a Congressional subpoena related to information sharing and meaningful use incentives under the EHR Incentive Programs:
READ MORE: Inpatient, Outpatient EHR Are Top Provider Buying Priorities

Bush – "And the third was the House Energy and Commerce committee started to subpoena Epic executives charging Epic of stealing federal dollars under the Meaningful Use Act (because their systems didn't encourage data sharing)."
False – Epic has never been subpoenaed by Congress. Epic's customers demonstrated data sharing to receive Meaningful Use incentives. Epic customers exchange over one million patient records a day, which is more than customers of any other EHR vendor exchange.
Following a March 2015 hearing the Senate Committee on Health, Education, Labor, and Pensions, athenahealth's CEO & President took to twitter to take shots at Epic for charging its customers to exchange health data.
In response to a question posed by Senator Bill Cassidy, MD (R-LA) about the cost, Epic Director of Interoperability Peter DeVault shared the company's then-practice of charging customers for information sharing.
"We charge on a per-patient, per-year basis — so it's not per transaction — and it's the same whether that patient is sent to a hundred different places or one another place. And that charge is $2.35," he said.
The debate between Epic and athenahealth then turned to the former's unwillingness to join the CommonWell Health Alliance — the vendor-driven consortium for health information exchange — in favor of Carequality.
READ MORE: Carequality, CommonWell Reach Health Data Exchange Agreement
DeVault characterized CommonWell as an aspiring nationwide network rather than the genuine article.
"Carequality is meant to be that fabric that connects all of the networks together, so you have health information exchanges, you've got the Care Everywhere network, you will eventually have CommonWell. Carequality then will be the fabric that stitches all of that together. So we hope that they will join Carequality," DeVault said at the hearing.
As things currently stand, of the two companies only athenahealth is a participant in both health data exchange initiatives. What's more, the company was recently rated by KLAS higher than 11 other EHR vendors for its ability to share data with other EHR systems.
With health data exchange and interoperability serving as the latest battleground for EHR and health IT vendors, the rivalry between Epic and athenahealth isn't likely to let up soon.
Dig Deeper:
• How Epic Systems Is Advancing Healthcare Interoperability
• McKesson Makes Push for Healthcare Interoperability