CMS Modifies E/M EHR Clinical Documentation Requirements
CMS changed E/M services-related EHR clinical documentation requirements to reduce administrative burden on providers.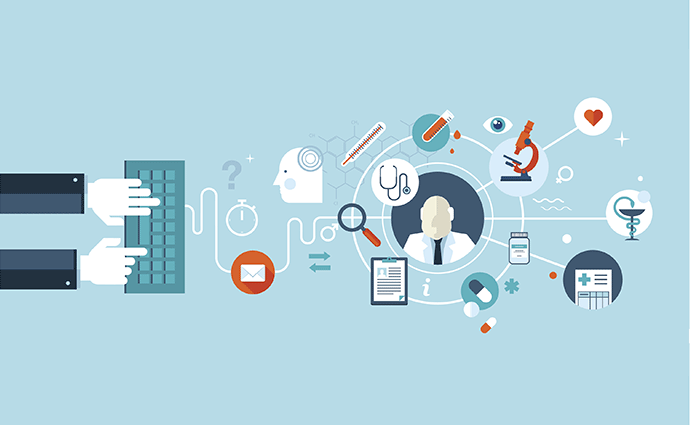 Source: Thinkstock
- The American College of Physicians (ACP) recently applauded a CMS decision to change EHR clinical documentation requirements. Teaching physicians can now verify medical student documentation in a patient's EHR related to evaluation and management (E/M) code services.
"Prior to the change, physicians were required to re-document most work performed by medical students — which is often very thorough and based on careful and supervised evaluation — rather than review, refer to, amend, or correct the student note," clarified ACP President Jack Ende, MD in a public statement.
Changing the EHR clinical documentation requirement allows teaching physicians to educate medical students about EHR use within a more streamlined workflow and reduces administrative burden for physicians.
"The changes will help better prepare medical students to effectively use an EHR, allow medical students to become more meaningful participants in patient care, and help them develop important competencies needed for continued training, licensure, and the lifelong practice of medicine," wrote Ende.
The CMS rule change was released February 2, 2018 and is slated for implementation on March 5, 2018.
The rule states students may document performed services in the EHR, but teaching physicians must verify all student clinical documentations or findings including history, physical exam, or clinical decision-making.
"The teaching physician must personally perform (or re-perform) the physical exam and medical decision making activities of the E/M service being billed, but may verify any student documentation of them in the medical record, rather than re-documenting this work," stated CMS.

Letting medical students participate in EHR clinical documentation, without mandating teaching physicians re-document the work, simplifies administrative tasks associated with federal reporting requirements per the Patients Over Paperwork initiative.
"This announcement from CMS is the type of common sense change that can help to alleviate the impact of administrative burdens on physicians," wrote Ende. "As a practicing physician and medical educator, I know first-hand the impact that these types of efficiency improvements can have on the quality of our medical education and on the quality of the patient care we are able to provide."
ACP worked with the Alliance for Academic Internal Medicine and CMS to advocate for this change, Ende stated.
"ACP will continue to work on behalf of internists and internal medicine students to advocate for changes that simplify and streamline administrative tasks that add burden to the health care system and improve the education of our future physicians," concluded Ende. "Regulatory change is possible when those in the internal medicine community work together."
CMS Administrator Seema Verma confirmed the federal agency's commitment to regulatory relief related to EHR clinical documentation in a webcast with American Hospital Association (AHA) President and CEO Rick Pollack in January.
Verma highlighted the Patients Over Paperwork and Meaningful Measures initiatives as the primary means of achieving this end.
Earlier this month, the American Academy of Family Physicians (AAFP) also offered pointed suggestions to CMS and ONC for reducing regulatory burden on providers in an effort to improve the patient-provider relationship.
As part of its suggestions, AAFP recommended CMS eliminate EHR clinical documentation requirements related to E/M code services for primary care physicians altogether.
E/M code services guidelines were "established 20 years ago, do little to support patient care," wrote AAFP.
AAFP also recommended CMS minimize health IT utilization measures in the Merit-Based Incentive Payment System (MIPS) advancing care information (ACI) performance category, prioritize reducing information blocking, and craft interoperability policy around improving health data exchange.
These and other recommendations from a variety of provider associations may help to spur continued regulatory relief and reduce the likelihood of physician burnout.