Epic Clinical Documentation Module Utilizes AI Solution
Recent developments in health IT include advancements in Epic's clinical documentation improvement module and VITL's accountable care organization support.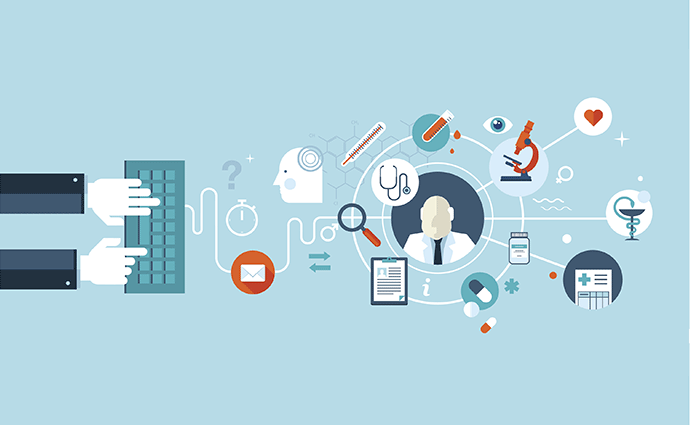 Source: Thinkstock
- Epic's clinical documentation improvement (CDI) module NoteReader will now utilize artificial intelligence (AI) solutions for automated physician feedback.
M*Model and its embedded M*Modal Computer-Assisted Physician Documentation (CAPD) technology, including its infrastructure and reporting capabilities, will support Epic NoteReader CDI and deliver automated physician feedback.
The M*Modal CAPD solution analyzes documentation and uses machine learning and clinical reasoning across patient records to deliver insights and suggest quality improvements to users.
Beyond CDI feedback, the technology also focuses on Hierarchical Condition Categories (HCCs) and Risk-Adjusted Quality Scores.
This newest collaborative effort follows other partnerships between the two companies to improve cloud-based speech recognition and natural language understanding technologies.
READ MORE: Epic Keeps VA Scheduling Contract Despite Cerner Decision
"Building on top of Epic's platform, M*Modal's innovative speech and AI tools give physicians great options for capturing narrative and structured data," said Epic President Carl Dvorak.
Embedding CAPD technology in the Epic EHR system is part of M*Modal's Speech Recognition: Front End EMR, M*Modal Fluency Direct functionality. The vendor's CAPD is presently being used in 200 healthcare facilities, including 65 using the technology within their Epic EHRs for clinical documentation.
"Our collaboration is focused on bringing smarter physician assistive technology to market and we are very pleased with the broad success of our joint clients and their continued willingness to innovate with us," said M*Modal President Michael Finke.
M*Modal leverages best practices for silent mode analytics, real-time, in-workflow feedback, and back-end support.
VITL implements terminology management platform to support ACOs
READ MORE: eClinicalWorks Settlement Likely to Unsettle Provider Partners
Elsewhere in health IT, Vermont Information Technology Leaders (VITL) recently implemented Wolters Kluwer's Health Language Enterprise Terminology Management Platform.
VITL implemented the platform to optimize its core interoperability systems and extend its capabilities to support accountable care organizations (ACOs) and patient-centered medical homes (PCMHs).
Additionally, the tool will assist VITL health plans and providers with medical reconciliation, data analytics, quality reporting, and population health management.
"Data quality is crucial to our ACO, OneCare Vermont, and our Blueprint for Health patient-centered medical home," said VITL Chief Technology Officer Michael Gagnon. "The Health Language platform plays a major part in helping us normalize specific quality measures for these customers."
The Enterprise Terminology Management Platform offers a solution for synthesizing and managing data across the care continuum, enabling analytics, and reporting.
READ MORE: eClinicalWorks to Pay $155M for EHR Certification Allegations
The platform is designed to assist healthcare organizations in investments in data warehouses, analytics software, and population health management tools through standardizing clinical, claims, and administrative data across incompatible systems.
"We are delighted to be supporting VITL and their stakeholders with their advanced interoperability and quality reporting initiatives," said Wolters Kluwer General Manager of Health Language Dan Buell. "Hundreds of thousands of people are benefitting from improved patient care and population health advancements as a result of VITL and its health information management capabilities."
"It's exciting and rewarding to be contributing to such an important initiative at the leading edge of healthcare transformation."
The platform also supports healthcare organizations in managing data governance and centralizing healthcare terminologies for clinical, billing, and administrative documentation and reporting.
eClinicalWorks enables bidirectional health data exchange for medical group
eClinicalWorks recently announced multi-specialty medical group Eagle Physicians and Associates has successfully achieved interoperability by using the vendor's EHR for its 61 providers at 11 locations.
The cloud-based technology is supporting Eagle Physicians in bidirectional health data exchange at the point of care.
"Interoperability is essential for improving healthcare delivery"
"At Eagle Physicians, we are built on an exceptional reputation for providing quality care to patients at every stage," said Eagle Physicians CMIO and Family Physician Dr. Robert Fried. "With the six-hospital Cone Health as the only health system in town, we needed a bidirectional exchange to share patient records at the point of service, especially to make our data available to the ED and hospitalists. "
The physician practice implemented the Carequality Interoperability Framework on the eClinicalWorks platform. Eagle Physicians added that efficiency in data sharing with Cone Health and partners such as UNC Chapel Hill Medical Center and Novant Health has improved.
UNC Chapel Hill and Novant Health both use Epic EHR.
"eClinicalWorks was selected to assist in bridging gaps that existed in the exchange of patient data and to improve the quality of patient care," stated Fried. "I applaud eClinicalWorks for putting significant resources into interoperability and providing it to users at no additional cost."
The multi-specialty group has used patient data exchange to gain access to critical information to enable patient-centered, preventive care.
Eagle Physicians also reports finding missing lab results, identifying potential drug-to-drug interactions, and providing data to other entities during transitions of care.
"Interoperability is essential for improving healthcare delivery," stated eClinicalWorks CEO and co-founder Girish Navani. "eClinicalWorks is committed to interoperability and the exchange of patient health information. With eClinicalWorks, Eagle Physicians and Associates has experienced an improved system to deliver patient care."