Healthcare APIs Enabled 1 Billion Exchanges at Allscripts in 2017
Allscripts enabled one billion data shares in a single year through its Open ecosystem.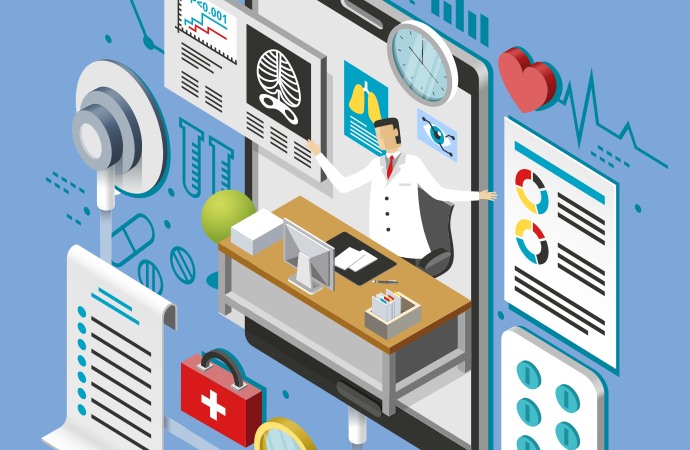 Source: Thinkstock
- Allscripts recently announced that its Open ecosystem built on healthcare APIs enabled one billion data exchange transactions over the past year.
Surpassing the milestone marks a record-breaking feat for the health IT company after 11 years of facilitating an open, connected care community.
The Allscripts Developer Program has so far certified nearly 200 different applications and devices for consumers. Through the use of healthcare application programming interfaces (APIs), Allscripts has assisted users with the rapid implementation and deployment of independently-developed software. Additionally, Allscripts users can use these APIs for their own internal development and integration projects.
"We have dedicated significant resources to build a robust and agile development program and a company culture that makes data sharing possible and sparks innovation," said Allscripts CEO Paul Black. "To reach one billion data shares in one year is incredibly exciting for both Allscripts and the more than 6,600 developers using our APIs. It demonstrates that Open is working."
All told, the health IT company has facilitated more than 3 billion healthcare API shares since 2013. As of October 31 of this year, 1,580 Allscripts users activated third-party API solutions.
READ MORE: Allscripts Expects Paragon EHR Success After Encouraging Quarter
"There is an industry-wide call for open health data exchange through APIs, which are a highly cost-effective approach to interoperability," said Black.
"Our leadership in this area has allowed us to elevate the interoperability conversation beyond doctor-to-doctor information exchange to the potential that exists in using APIs to maximize data sitting above the EHR for payers, caregivers and consumers," he continued.
In the coming year, Allscripts plans to expand Fast Healthcare Interoperability Resources (FHIR), Substitutable Medical Apps & Reusable Technology (SMART), and CDS Hooks into its core product portfolio. Expanding these products will enable more entry points for third parties to connect and exchange data with Allscripts users.
"Patients are using technologies developed using our APIs, as are healthcare providers and payers," said Black. "We will continue investing in our Open ecosystem that is geared towards making data not only fluid but actionable at the point of care."
Ohio Health System Goes Live with MEDITECH Web EHR
Firelands Regional Medical Center recently went live with MEDITECH's Web EHR.
READ MORE: Allscripts Acquires NantHealth Patient Engagement Assets
The Ohio-based health system implemented MEDITECH's web-based EHR solution across the care continuum in an effort to improve patient care delivery and promote team-based care. The solution will assist healthcare providers with clinical and ancillary care, billing, and other operational processes. MEDITECH will also provide Firelands visitors with a patient portal.
Firelands selected MEDITECH EHR as part of its plan to move to a single, comprehensive EHR solution for improved care coordination.
The 400-bed hospital includes 250 physicians across 35 specialties, as well as more than 2,100 hospital staff. MEDITECH EHR will assist with unifying care teams to improve patient health outcomes and streamline clinical processes.
"The mobility of MEDITECH's Web EHR is having a transformational impact on how I deliver care, and is delivering a new paradigm in physicians' experience with EHRs," said Firelands Regional Medical Center Emergency Physician Patrick Tupa, DO. "I now have the ability to interact with patients one-on-one in the room with a tablet. Patients have been impressed and like to see technology working for them."
Firelands healthcare providers will also utilize MEDITECH's integrated oncology solution to centralize tools needed for long-term care management.
DirectTrust Extends Accreditation Agreement with ENHAC
READ MORE: Allscripts Acquisition Signals Inpatient Health IT Challenges
DirectTrust has extended its accreditation agreement with the Electronic Healthcare Network Accreditation Commission (EHNAC) through 2018.
EHNAC currently administers its DTAAP accreditation and audit for DirectTrust Certificate Authorities and Registration Authorities.
"We're very pleased to continue to have EHNAC as an accrediting and auditing partner in our Trust Framework while also accepting the HITRUST CSF Certification as a means of ensuring implementation of HIPAA Privacy and Security best practices for our community," said DirecTrust CEO and President David Kibbe, MD in a list serv. "Much recent attention has been focused on the trust frameworks and agreements used in support of health information exchanges in and between networks.
"The ONC's rulemaking in this area is coming very soon, with a first draft for public comment expected by the end of December," he continued. "As such, accreditation, and on-site audit of privacy, security, and trust-in-identity controls and practices remains a central component of our Trust Framework, and the agreements and contracts that depend upon such accreditation and audit being performed regularly."
DirectTrust will also offer a new accreditation program for DirectTrust Healthcare Information Service Providers (HISPs) of Direct messaging. The new program will provide DirectTrust HISPs with the option to obtain HIPAA Privacy and Security accreditation and audit through either DirectTrust DTAAP or HITRSUT CSF Assurance.
"This agreement extends the ability for EHNAC and DirectTrust to work together to ensure a secure and unyielding trust framework for all health care stakeholders by providing significant flexibility to Direct Exchange Network participants," said EHNAC Executive Director Lee Barrett.
As of July 2017, the DirectTrust nationwide network includes 42 EHNAC-DirectTrust accredited HISPs.