Hospital Health Information Exchange by the Numbers
Health information exchange technology is in use among hospitals across the country.
While advancing interoperability is the aim of several current federal health IT initiatives, health information exchange is already occurring. The mechanisms for exchanging health data exchange differ as to their output and usability, but they do bridge information gaps between healthcare providers.
CommonWell Health Alliance, Carequality, eHealth Exchange, Care Everywhere. Many of these terms are recognizable as prominent players in health data exchange.
CommonWell made a name for itself back in 2013 as an industry-driven consortium of EHR vendors with the goal of making their EHR technology interoperable.
The following year in 2013 The Sequoia Project, then Healtheway, was similar initiative with the goal of establishing nationwide standards for interoperability. The group is also responsible for managing the eHealth Exchange, formerly the Nationwide Health Information Network.
By now, most in the industry are familiar with Epic Systems and its Care Everywhere (as well as how much it used to cost.)
The following data comes from a technology search of hospitals with applications for health information exchange of the Definitive Healthcare database. The results yielded 3016 unique hospitals with a technology vendor listed. Seventy-six vendors are represented.
Health data exchange is an important aspect of a learning health system. As Intermountain Healthcare Vice President and CIO Marc Probst recently told EHRIntelligence.com, one of the setbacks of the EHR Incentive Programs has been their inability to forward interoperability over the past few years.
"We did some good things, but we spent a lot of money and probably didn't approach it the right way to get as much value as we could've if we just dealt with some basic issues like standards and interoperability before we thought about functionality," he said.
Given that HIMSS16 is only weeks away, let's begin with a look at CommonWell by these numbers. Currently, the consortium includes the following members with hospitals using their HIE technology.
Following industry acquisitions by Cerner Corporation of Siemens Health Services and Allscripts of dbMotion, that list includes the likes MEDITECH, McKesson & RelayHeatlh, and Greenway Health. The total number of hospitals using CommonWell vendors is 726 (24.07%).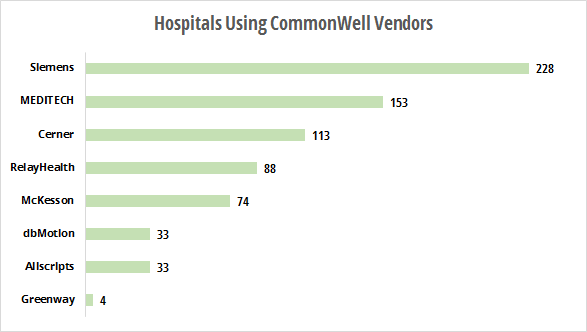 On the Carequality side, the total number of contracted implementers reaches 1112 (36.87%). By in large, that comprises users of Epic and Care Everywhere (1065; 35.31%). The remaining 47 hospitals are users of eClinicalWorks (1.55%).
Scores of other EHR, HIE, and health IT vendors feature among the DefinitiveHC data. Of note are five health IT vendors that make up close to one-third of the hospital market as a whole. Iatric, InterSystems, Medicity, Optum, and Orion Health are used by 881 hospitals (29.21%).

A necessary disclaimer

Hospitals represent one portion of the provider community and potential end-users. Many of the members of CommonWell have a substantial number of provider customers in the ambulatory market. For its part, athenahealth is a member of both CommonWell and an early adopter of the Carequality Interoperability Framework.

And neither CommonWell nor Carequality support all the providers on the care continuum. The Office for National Coordinator for Health Information Technology (ONC) has made a case recently for EHR and health IT to become a tool for long-term, post-acute care facilities, skilled nursing homes, and home health agencies.

{/exp:hop_inject:injection}