Hospitals Frequently Use EHR Workarounds During Morning Rounds
New research suggests EHR functionality does not adequately support team workflow, and clinicians frequently rely on EHR workarounds.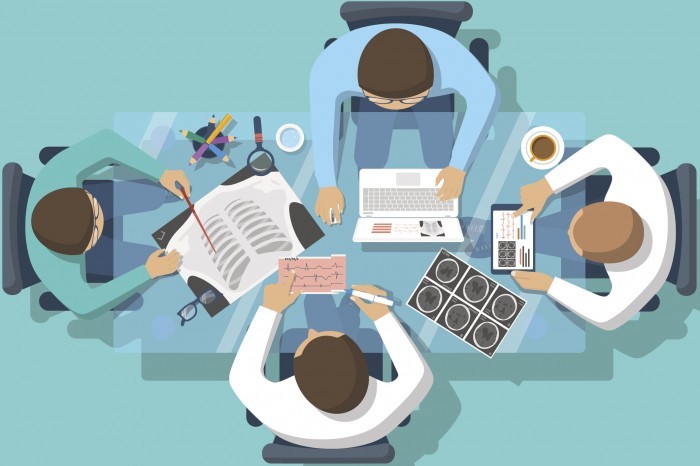 Source: Thinkstock
- A recent study looking into the benefits of EHR use on inpatient care delivery found EHR workarounds are common at hospitals during critical points of care.
Assis-Hassid et al. assessed EHR use at a major teaching hospital in New England with over 700 beds. The hospital implemented Epic EHR across all units in May 2015. Researchers observed care teams during morning rounds, conducted semi-structured interviews, and collected responses from an electronic survey to gain insight into patterns of EHR use in an inpatient setting.
In total, the team observed 12 care teams for a total of 50 hours and interviewed 13 clinicians including four attending clinicians, three residents, one intern, and five physician assistants (PAs.) Ninety-one clinicians submitted responses to the electronic survey.
Researchers identified four themes through their analyses. First, the team noted variance in EHR use patterns during morning rounds. Second, researchers analyzed the use of EHR workarounds in care team workflow.
The team also addressed the rate of health data exchange and its impact of intra-care team communication at the hospital. The final theme the team observed involved challenges presented by EHR usability and design.
READ MORE: Pew Suggests Boosting EHR Usability, API Use to Cut Clinician Burden
Ultimately, researchers found a high degree of variance in the way different care teams engaged in EHR use.
"Variation appeared in the type of clinician using the EHR, the stage at which the EHR was used and the device used," clarified researchers in the report.
"With respect to EHR use before rounds, most clinicians reported they always use the EHR before entering the patient's room, but only sometimes when in the patient's room," researchers continued.
About 40 percent of attending clinicians sometimes engaged in EHR use after leaving a patient's room, while 50 percent of residents reported sometimes engaging in EHR use after leaving the patients room. Fifty percent of interns and about 53 percent of PAs reported always engaging in EHR use after leaving the room.
Researchers also observed that clinicians frequently relied on EHR workarounds during rounds.
READ MORE: Can Virtual Assistants Eliminate EHR Usability Pain Points?
"Workarounds that were documented during observations and interviews included extended use of handwriting, emails and verbal discussions," stated researchers. "Printouts of patient summary reports were used to add information from the EHR in handwriting, such as: vital signs and recent lab results."
"Patient summary reports were also used during rounds to track the patients being visited, document tasks and reminders, and update lab results that would later be typed into the patient's progress notes, as one attending described," researchers continued.
The team noted clinicians employed various EHR workarounds before and after morning rounds through email correspondence or verbal discussions.
Clinicians mostly communicated EHR data verbally and visually during morning rounds.
"Inside the room, we found that when the attending clinician was using the EHR, s/he usually chose to use the bedside computer," wrote researchers. "The positioning of the computer in the room prevented the clinician from facing the rest of the team. Furthermore, during computer use, the clinician was focused more on the screen than on interacting with the care team."
READ MORE: How Information Blocking Regulations Can Promote EHR Usability
Clinicians frequently mentioned the difficulties of balancing EHR use with care team communication during interviews.
"When asked if EHR use interrupts care team communication, responses varied among clinician types," researchers stated. "Most attending clinicians and interns responded that EHR use never interrupts care team communication, while most residents and PAs responded that it does sometimes."
Researchers also found most clinicians had concerns about EHR usability and design.
"Attending clinicians' responses on the EHR's role in efficiency during rounds were inconsistent, with nearly half of them reporting that it is useful only sometimes, and the other half reporting that it is useful most of the time," researchers noted.
Based on findings from the study, researchers recommended health IT developers focus on making improvements to the EHR interface to facilitate workflow efficiency.
"It would be beneficial to consider different ways of visualizing data to prevent information overload and make the system easy to use in real time in the patient's room," researchers suggested. "There is need to better integrate mobile devices that are easy to carry around between different floors/units in the hospital."
Researchers also recommended care team training programs integrate EHR use training during rounds.
Overall, researchers stressed that clinicians in inpatient settings are dissatisfied with many aspects of EHR use.
"Although EHRs can improve healthcare quality and have done so in many ways, our findings show that there are many challenges in the current inpatient environment that need to be addressed if EHRs are to reach their full potential," the team concluded.