How HIE Adoption Simplifies, Streamlines Health Data Exchange
HIE adoption can help healthcare organizations increase rates of health data exchange and succeed in federal incentive programs.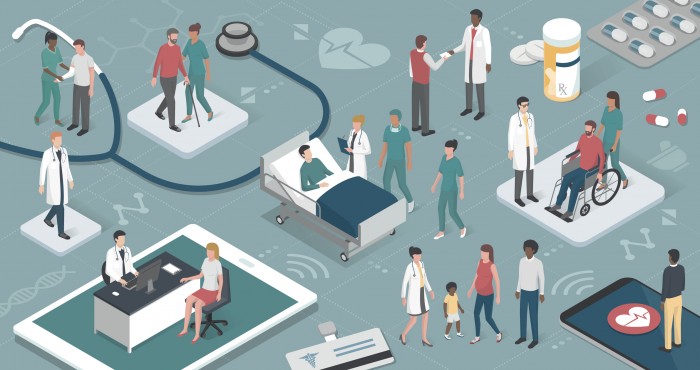 Source: Thinkstock
- After years of frustration among stakeholders over the lack of complete, timely health data exchange across the healthcare sector, CMS is taking a firm stance on interoperability with its Promoting Interoperability programs.
CMS announced its decision to rebrand the EHR Incentive Programs (i.e., meaningful use) as Promoting Interoperability in Spring 2018. The new name is emblematic of the federal agency's focus on encouraging hospitals and health systems to increase rates of health data exchange for better-informed care delivery.
While the effects of the federal agency's efforts to increase interoperability remain to be seen, industry stakeholders are largely supportive of the federal agency's decision to emphasize the need for enhanced health data exchange.
Manifest MedEx Managing Director Hiliary Critchley spoke with EHRIntelligence.com about the importance of incentivizing interoperability and health data exchange in an industry where connectivity is closely tied to cost savings and quality improvement.
"Health data is most effective where you have connectivity, meaning that you have all of the information on a patient available in near-real time," Critchley said. "And it's not just with hospitals, but also the community clinics and labs."
READ MORE: Health Data Exchange Helps Identify Disparities in Hypertension Care
Unfortunately, hospital infrastructure isn't built for seamless connectivity. Information systems are often isolated across healthcare organizations, contributing to siloed data that can complicate transitions of care between providers at different facilities, hospitals, and care settings.
When community care organizations see new patients or specialty care organizations receive referrals, providers often lack the context and background necessary to make informed care decisions.
"A problem is that information that community medical and healthcare organizations need has not usually been available to them," said Critchley. "They either have to follow up directly with the hospital, or the hospital has to follow up directly with them."
The additional steps needed to retrieve information from out-of-network providers increases administrative burden on healthcare organization staff, which can lead to delays in care delivery.
Health information exchanges (HIEs) such as California-based MedEx can help to streamline transitions of care and deliver vital information to receiving hospitals or healthcare organizations in a timely manner.
READ MORE: Rochester RHIO Expanding Health Data Exchange with State Grant
"In order to modernize healthcare, information has to be shared," emphasized Critchley. "Because the healthcare sector is so fractured, it would be highly duplicative for every ambulatory practice to try to connect and integrate with every hospital in their region."
HIEs function as a centralized data source for hospitals, medical centers, physician practices, and other care facilities that want to access information from several different providers without going through the arduous process of establishing a connection with each individual facility.
"It makes sense to centralize into a network that can be accessed and leveraged on an as-needed basis as patients make their way through the healthcare system," Critchley noted.
In addition to enabling HIE participants to access patient EHRs from other participating providers, HIEs also allow participants to utilize functionality specifically geared towards improving transitions of care.
Healthcare organizations throughout California connected to MedEx have the opportunity to send and receive admission, discharge, and transfer (ADT) notifications.
READ MORE: Carequality, DirectTrust Continue Growing Health Data Exchange
"When there is a significant event, like a hospitalization, notifications will inform the appropriate party in real-time," said Critchley. "These notifications work both ways. When a patient is admitted to the hospital, their primary care provider will get an alert, indicating they should reach out to the hospital and make sure they have the patient's clinical history, including medications, allergies, diagnoses, and prior procedures."
"The hospital will also get this historical health data on the patient through their direct connection with Manifest MedEx," she continued. "The care cycle is then brought full circle when the primary care provider is alerted that their patient has been discharged, and they digitally access the information on what occurred at the hospital, supporting the patient's transition back to community healthcare."
Other HIE leaders — including Utah Health Information Network (UHIN) President and CEO Teresa Rivera — have highlighted the importance of integrating ADT notifications into EHR systems to improve care coordination.
ADT notifications can reduce hospital readmissions by ensuring care teams are informed about each patient's condition and status as they move across the care continuum.
Reductions in hospital readmissions can ultimately save hospitals money and help some hospitals improve their performance in CMS quality programs.
As part of the Hospital Readmissions Reduction Program (HRRP), hospitals with higher-than-average readmission rates for patients within 30 days of discharge can be faced with payment penalties. ADT notifications can help hospitals avoid these payment penalties and earn higher incentive payments.
"Hospitals discharging patients into the community communicate automatically, and with the relevant data, to create that continuity of care that allows patients to receive the medical support and attention that could prevent re-admissions," said Critchley.
Hospitals can also query HIEs for patient records going back five to seven years to avoid contacting administrators and clinicians at other healthcare organizations.
"That way they'll know what the patient's allergies are, they can read about prior procedures, diagnoses, and what's on their problem list," said Critchley.
While many industry leaders have expressed frustration with the current rate of health data exchange between hospitals, physician clinics, and health systems, Critchley suggested data sharing is poised to increase as a result of federal policies and incentive programs that reward information exchange.
"Momentum is starting to gather around this, and federal incentives are pushing hospitals to think through how they can better engage with their community and ambulatory partners to improve transitions of care and patient outcomes," said Critchley.

"They want to make sure that participants have the information needed to ensure the continuity of what was initiated at the hospital is followed through on post-discharge, and that the risk of readmission to the hospital or ED is reduced," she added.
HIEs such as MedEx are helping to bolster rates of health data exchange by engaging partners across regions. The non-profit HIE includes more than 200 hospital and ambulatory participants of various sizes and is working to further expand its reach.
"We recently signed Stanford Health Care, Hill Physicians, and Heritage, which is very exciting," said Critchley. "We also have deep connectivity in the Inland Empire."
As an industry stakeholder familiar with the challenges of health data exchange and interoperability, MedEx also offers its expertise to policymakers.
"We have been working closely with California organizations to help frame policy and inform folks making decisions," said Critchley.
Looking ahead, Manifest MedEx is taking steps to help healthcare organizations overcome financial barriers to HIE adoption.
"A big problem is that data right now is stored in EHRs, so when an organization wants to connect and contribute data to us, they have to do it through their EHR vendor," said Critchley. "Very often, that comes with dollars and cents attached. That can be tough, especially for smaller organizations."
"That being said, we're very excited that $50 million in state and federal funds are coming into the State of California to help," she added. This will be made available through a 9010 funding mechanism to assist healthcare organizations unable to afford fees associated with HIE adoption.
"It's 10% DHCS, and then 90% CMS funding," explained Critchley. "So, the state put in five million to get 50 million total."
In terms of the marketplace at large, Critchley predicts there are big changes to come that may help to reduce problems arising from healthcare organizations using different health IT systems that don't have the ability to seamlessly interface.
Critchley anticipates the health IT market will start to see an increase in consolidation as frontrunners gain popularity and more hospitals opt to implement the most widely-used solutions to ensure they'll be able to exchange data with other organizations.
"Similar to EHRs, there probably will be consolidation as the market starts to coalesce around solutions that work," said Critchley. "Right now it is up to individual organizations to make decisions around what works for them. It's quickly evolving."