How Increasing EHR Adoption, HIE Use Fuels Healthcare Industry
Regulatory mandates favoring eHealth implementation have led to increasing EHR adoption, and in turn helped medical device connectivity grow.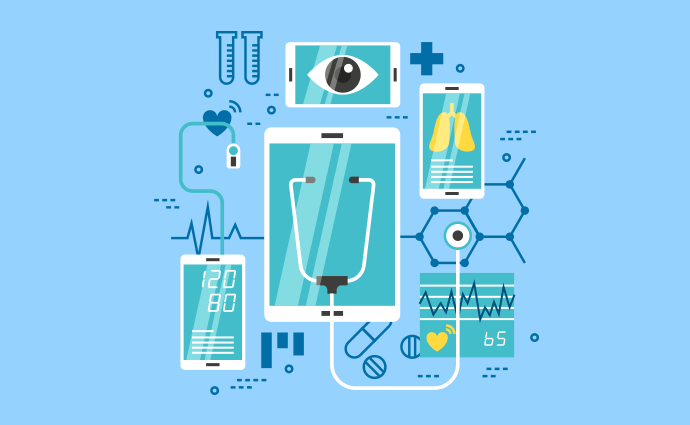 Source: Thinkstock
- The push for nationwide interoperability, while still ensuring health IT usability, has quickly become a top initiative for healthcare organizations. Subsequently, increases in health information exchange (HIE) systems and EHR adoption have also helped growth within the medical device connectivity market, research shows.
The medical device connectivity market is projected to reach approximately $2.67 billion by 2023, from $939.4 million in 2018, according to a ResearchAndMarkets report. The growth will also occur at a CAGR of 23.2 percent.
Strong IT infrastructure in North America helped fuel its market growth, the report noted. Increasing investments and regulatory mandates on implementing eHealth solutions, the presence of large healthcare IT companies, and a growing need to reduce healthcare costs were also key factors for the market growth.
There have been several recent federal initiatives that are pushing for increased interoperability, but that also want to not over-burden providers in the overall goal of patient-centered care.
Large healthcare IT companies have also been making moves in the industry to help further EHR adoption, HIE use, and improve interoperability nationwide. Additionally, medical device connectivity with EHRs and HIEs has helped organizations work toward reducing costs.
Regulatory mandates pushing technological advancement
READ MORE: HIEs Consider Joining Ambitious ONC Health Data Exchange Framework
One of the bigger headlines so far into 2018 was CMS announcing a proposed rule on April 24, which would transform the EHR Incentive Programs and introduce changes to Medicare payment policy rates under the Inpatient Prospective Payment System (IPPS) and the Long-Term Care Hospital (LTCH) Prospective Payment System (PPS).
Under that proposed rule, the meaningful use program was also renamed to "Promoting Interoperability."
CMS explained that the EHR Incentives Program will be made more flexible and less burdensome, measures that require the exchange of health information between providers and patients would be emphasized, and providers would be incentivized to simplify how patients can electronically access their own medical records.
Providers would also be mandated to use 2015 edition certified EHR technology (CEHRT) in 2019 to demonstrate meaningful use and qualify for federal incentive payments.
"This updated technology includes the use of application programming interfaces (APIs), which have the potential to improve the flow of information between providers and patients," CMS said in a press release. "Patients could collect their health information from multiple providers and potentially incorporate all of their health information into a single portal, application, program, or other software."
READ MORE: Solutions for Addressing Health Information Exchange Challenges
CMS also announced the MyHealthEData initiative in 2018, which was designed to improve EHR patient data access. The government-wide initiative also aims to break down existing barriers to health data access and use, letting patients access their own EHRs through the device or application of their choice.
Healthcare organizations of all sizes will need to remain current on the latest federal initiatives, ensuring that they are adhering to mandates and are opting for the right technology to help with patient access and overall EHR usability.
Epic, Cerner making waves with EHR adoption
Cerner and Epic EHR options were top choices for healthcare organizations looking to migrate from legacy patient accounting solutions, KLAS research found.
Epic lead in overall satisfaction by nearly 15 points, with all entities that switched to Epic in the past five years reporting improved cash, revenue, cost to collect, collections, clean claims, and net A/R days (with an average of 41.9 days).
Healthcare organizations that wanted to convert their legacy PA systems often looked toward Cerner EHR replacement options. Cerner customers did state that their own internal commitment and investment to being of greater help in meeting their revenue cycle targets.
READ MORE: EHR Optimization Before, During, and After Implementation
A separate KLAS report found that Cerner and Epic won more EHR contracts with community hospitals than any other vendor over the past 12 months.
Out of approximately 400 surveyed standalone and community hospitals, 72 community hospitals selected Epic's Community Connect EHR system and 65 selected Cerner CommunityWorks.
"Many of the community hospitals that are making purchasing or major upgrade decisions feel their current technologies are not innovating fast enough to address today's challenges and help them solidify their long-term financial viability," noted KLAS researchers.
Innovation, financial viability, and EHR integration will likely continue to be key considerations for healthcare organizations as they look toward creating a smooth EHR implementation process.
Growing need to reduce healthcare costs
There have also been reports underlining the need for healthcare organizations to reduce their overall costs. Both EHRs and HIEs have helped in this effort.
HIEs could save Medicare billions, reducing healthcare spending by more than $3 billion a year, according to a 2017 study by researchers at the University of Notre Dame.
Operational HIEs had an average savings of $139 per Medicare beneficiary a year—a 1.4 percent decrease in spending per individual.
Medicare cost savings from HIE use will be at its peak when incentives for payers and providers are aligned and HIE capabilities become more mature, wrote Idris Adjerid, Julia Adler-Milstein, PhD, and Corey Angst.
"Not all health care markets see the same amount of reduced spending from HIEs," explained Adjerid. "We find that spending reductions are greater in health care markets where providers have financial incentives to use an HIE in ways that reduce spending. We also find that more mature HIEs—those that have been around longer—are more effective at reducing costs."
HIE use was also found to lead to cost savings and increased productivity in sexually transmitted infection (STI) treatment and management.
A 2017 study published in Health Information Management Journal determined that time savings resuling from HIE use led to improved productivity at the Erie County Department of Health (ECDOH).
ECDOH had been using Western New York's clinical information exchange, HEALTHeLINK.
ECDOH expanded its disease investigation without increasing work hours or spending and expanded disease control and partner services to residents who may have been missed prior to implementing HIE use as part of the disease management process, researchers found.
Specifically, epidemiologists saved time and money when they relied on HIE use for patient demographic data instead of attempting to retrieve the information through providers or labs. Epidemiologists saved a total of 131 hours per year for chlamydia treatment monitoring and 46 hours per year for gonorrhea treatment monitoring.
"ECDOH epidemiologists estimate that obtaining demographic information in HEALTHeLINK rather than contacting the laboratory or ordering physician saved approximately 10 minutes of their time per case," researchers wrote. "Based on the number of demographic informational requests for chlamydia cases in 2012, we estimated that using HEALTHeLINK to obtain cases' demographic information saved 63 epidemiologist hours, leading to an estimated $3,468 of salary savings."
Growth in the medical device connectivity market is just one key area that has benefitted from EHR adoption and HIE use. Healthcare organizations can reduce costs and help increase productivity, both of which can lead to improved patient care.