How Strong Health Data Governance Ensures EHR Data Integrity
With a proper health data governance strategy, healthcare organizations can guarantee that EHR data of the highest quality is available to provider and patients.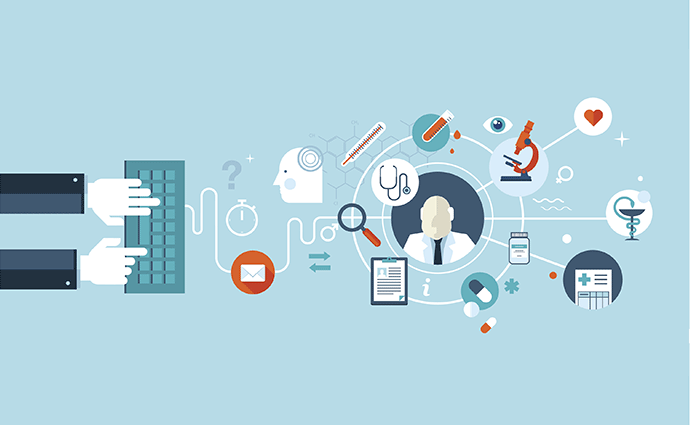 Source: Thinkstock
- Health data governance best practices are necessary for ensuring providers are getting the most out of their EHR systems. Maintaining the principles of data governance and implementing strategies to improve EHR data quality, use, and exchange can lead to better patient safety, health IT interoperability, and clinical efficiency.
The American Health Information Management Association (AHIMA) continues to stress the importance of effective EHR data management and appropriate changes to clinical processes and workflows in the wake of rapid rates of EHR adoption and the growing need for accurate, timely information for high-quality patient care.
"The complexity of technology and the associated process and workflow changes associated with it can result in unintended consequences," it stated the association. "While IG recognizes the importance of technology, it realigns the focus from being solely on technology to the people and policies generate and manage data and information for safe, high quality care."
Health data governance is also useful for supporting patient engagement strategies for healthcare organizations interested in allowing patients greater access to their own electronic health information.
"IG addresses the need for transparency, accuracy, and integrity of information shared with patients," stated AHIMA. "This is absolutely essential for patients to have confidence in their providers and fully participate as members of their healthcare team."
READ MORE: Health Data Integrity the Focus of ONC Innovation Challenge
Well-established data governance best practices as well as new developments in data provenance and EHR use guidelines can assist providers in optimizing health IT for improved patient health outcomes.
Data governance best practices
To assist healthcare organizations in reaping the benefits of data governance, AHIMA developed the Information Governance Principles for Healthcare (IGPHC) framework.
The framework sets forth a foundation of best practices for healthcare IG programs guided by the following eight principles:
Accountability-Healthcare organizations should require a member of hospital leadership to oversee a health data governance and management program. Healthcare organizations should also adopt a set of policies and procedures so the program can be audited.
READ MORE: Updates on Health IT Interoperability Progress from CMS, ONC
Transparency-Healthcare organizations should document all health data governance processes and activities in a way that is both open and verifiable.
Integrity-Health data governance programs should be designed to ensure all health data in an organization's EHR system come from a reliable source.
Protection-Precautions should be in place to protect health data from potential breaches and corruption.
Compliance-Health data should comply with existing regulations, standards, and organizational policies.
Availability-healthcare organizations must ensure health data is accessible in a timely and accurate manner.
READ MORE: Improving Clinical Data Integrity through EHR Documentation
Retention-Healthcare organizations must store data for an appropriate length of time in accordance with legal, regulatory, fiscal, operational, and historical requirements.
Disposition-Healthcare organizations must dispose of health data in a secure and appropriate manner.
These overarching guidelines for data governance best practices are necessary for providers interested in optimizing the benefits of EHR use and maintaining patient safety and health data security in a digitally-driven healthcare industry.
While the standards established by AHIMA may be useful for establishing data governance strategies, improvements to health data integrity are still being developed in 2017.
Solutions for maintaining health data integrity
Another way healthcare organizations can ensure a high level of health data integrity is through utilizing solutions to determine data provenance.
Despite progress in cementing a set of data governance best practices, federal organizations are still working to develop these solutions.
The ONC Health Data Provenance Challenge launched in April of this year was designed to improve health data integrity at the point of care. Gathering identifying information about data to determine its source assists in establishing the 'who, what, when, where, and how' of data and information exchange and ensures data is reliable.
In today's healthcare environment, health IT systems need to be capable of using data provenance to find data errors for improved data accuracy and patient safety.
Innovators participating in the challenge are required to submit white papers outlining methods their team currently uses to identify the provenance of health data. Additionally, teams must identify a persistent problem affecting data provenance and develop a potential solution to this problem.
Verifying the accuracy of health data is particularly vital given the ubiquity of EHR adoption in healthcare.
Providers in well-connected hospitals and physician practices use EHR technology to assist in streamlining nearly all daily clinical processes.
Only accurate, meaningful data should exist in provider EHR systems to ensure data errors do not negatively impact patient health outcomes, misinform clinicians, or circulate health information exchanges.
In addition to verifying health data provenance to improve health data accuracy, organizations such as AHIMA are also looking to limit the use of the copy and paste functionality in EHRs to mitigate redundant and erroneous data in clinical documentation.
Consequences, solutions to overuse of copy and paste functionalities in EHRs
Proper EHR use can also improve health data integrity.
One point of contention in determining best practices for ensuring EHR data accuracy is the use of the copy and paste functionality in EHRs.
A study released in June by Wang et al. used a new Epic EHR update enabling users to identify health data provenance in provider notes to see how much data in manually entered, imported from another source, or copied from previous notes.
Researchers at California San Francisco Medical Center evaluated 23,630 notes by 460 clinicians and used the update to find which method had been used for clinical documentation.
According to the study, only 10 percent of the text was manually entered, while nearly half of all provider notes was copied and pasted from previous notes.
Furthermore, residents copied 51 percent of all text, while medical students copied 49 percent of text.
Researchers pointed out the shortcut may pose a threat to patient safety.
"Copying or importing text increases the risk of including outdated, inaccurate, or unnecessary information, which can undermine the utility of notes and lead to a clinical error," researchers stated.
AHIMA has been emphasizing the importance of limiting the use of copy and paste since 2014. The organization raised researchers' current concerns and more in its Policy and Position Statement titled Appropriate Use of the Copy and Paste Functionality in EHRs three years ago.
Like researchers at San Francisco Medical, association members emphasized the potential for copied notes in EHRs to lead to redundant, erroneous, and incomprehensible health record documentation that may threaten the medical and legal integrity of patient EHRs.
"The use of copy/paste functionality in EHRs should be permitted only in the presence of strong technical and administrative controls which include organizational policies and procedures, requirements for participation in user training and education, and ongoing monitoring," said AHIMA in the statement. "Users of the copy/paste functionality should weigh the efficiency and time savings benefits it provides against the potential for creating inaccurate, fraudulent, or unwieldy documentation."
While the copy and paste functionality in EHRs persists as a cause for concern among data governance experts, there presently exists a lack of formal guidelines and practice standards regarding its use.
To assist in reducing the risks associated with over-utilizing this functionality, AHIMA made several recommendations to healthcare industry stakeholders, EHR system developers, healthcare provider organizations, and the public sector.
AHIMA's recommendations included the following:
Implementing limitations on the use of copy and paste functionalities could tighten data governance best practices to ensure providers see only the most accurate, specific, and relevant information when accessing their EHRs.
Advancements in health data governance and integrity and adherence to existing best practices must be implemented to keep pace with developments in EHR technology and health IT to mitigate potentially harmful errors in patient care.