Keys to Successful EHR Selection in a Value-Based Care System
Providers need to find health IT companies offering a high degree of usability and integrated solutions during the EHR selection process for value-based care success.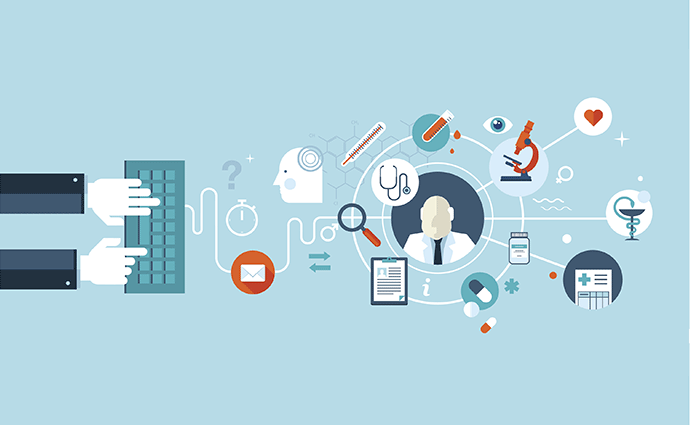 Source: Thinkstock
- While most providers understand the goals of the value-based care system, many still approach EHR selection through a volume-based lens.
According to a post by Beth Israel Deaconess Medical Center CIO John Halamka, MD, health IT vendors are partially to blame. When advertising a system's capabilities, health IT companies should begin framing their successes in relation to what their services help hospitals accomplish rather than how popular they are. This is what value-based care was designed to do—push the healthcare industry's focus away from quantity and toward quality.
Time and again, organizations ranging from HIE networks (DirectTrust) to health IT companies (Allscripts) have measured the success of a fiscal quarter in services deployed or messages sent.
Halamka asserted this is not the mindset that will champion success in the value-based care system.
"Rather than counting the number of Direct messages sent, give organizations the flexibility to each data using the most locally appropriate technology but then holding them accountable for a result of that data exchange, i.e. reduced readmissions, reduced redundant testing, reduced errors seems to be well aligned with a move to value-based purchasing," Halamka said.
READ MORE: How the EHR Selection Process Influences Specialist EHR Use
But what exactly is value in healthcare, and how can it be measured?
That's a complex question, according to an article in the New England Journal of Medicine.
"Outcomes, the numerator of the value equation, are inherently condition-specific and multidimensional," wrote Michael E. Porter, Ph.D. "For any medical condition, no single outcome captures the results of care. Cost, the equation's denominator, refers to the total costs of the full cycle of care for the patient's medical condition, not the cost of individual services. To reduce cost, the best approach is often to spend more on some services to reduce the need for others."
Therein lies the logic of a value-based care system—in theory, investing in technologies designed to improve patient care should have a ripple effect, spurring improvements in cost savings and patient satisfaction, among other areas.
For example, if a provider can get access to a long-term post-acute care patient's medication history using Surescripts' Medication History for Reconciliation service, that provider will have knowledge of any existing allergies or medication aversions and avoid a potential adverse drug reaction. Dodging an adverse drug reaction could both improve the patient's health and save the hospital money by avoiding a readmission. Improved quality of care leads to a host of benefits for both patients and providers.
READ MORE: Meritus Epic EHR Selection Came Down to Satisfaction
However, that means the inverse is also true. Wasting time and losing productivity due to unnavigable EHRs, excessive test ordering, faulty health IT, or technology that doesn't meet federal requirements can lead to a pile-up of extra costs and patient safety threats.
Providers need to know which EHR system can best fulfill the aims of a value-based care system or else suffer hours of frustration and potential payment penalties.
The following are the top EHR capabilities providers need at their healthcare organization to meet the demands of value-based care.
EHR usability
Usability colors a provider's perception of EHR technology and can make or break an end-users experience with a certain system.
The EHR Incentive Programs required providers spend a significant amount of time on data entry to meet requirements.
READ MORE: Value-Based Care to Require New EHR Selection Tools, Resources
According to a recent study, providers spent between 3.08 hours in office visits and 3.17 hours on desktop medicine each day under volume-based care.
"Desktop medicine consists of activities such as communicating with patients through a secure patient portal, responding to patients' online requests for prescription refills or medical advice, ordering tests, sending staff messages, and reviewing test results," the researchers explained.
While CMS has worked to craft a less burdensome QPP heading into the program's second year, federal incentive programs still require thorough clinical documentation and quality reporting. Providers need an EHR system with a high degree of usability to streamline these daily tasks and avoid what has recently been called a public health crisis—physician burnout.
In a post on Health Affairs blog, a group of CEOs from leading organizations including the American Medical Association (AMA), Mayo Clinic, and others asserted EHR implementations and performance measurement are partially to blame for the spike in burnout.
"Professional satisfaction for physicians is primarily driven by the ability to provide high-quality care to patients in an efficient manner," they wrote. "Dissatisfaction is driven by factors that impede this effort, including administrative and regulatory burdens, limitations of current technology, an inefficient practice environment, excessive clerical work, and conflicting payer requirements. High levels of physician burnout can thus be seen as an indicator of poor performance by the underlying system and environment."
Physician dissatisfaction reduces efficiency in patient care delivery and runs counter to the goals of value-based care.
Choosing a system with a high degree of usability could prevent provider frustration and streamline the daily demands of various performance measurement requirements.
Worldwide, healthcare organizations are beginning to place EHR usability high on their list of priorities.
Usability is one of the most significant factors driving EHR selection in 2017 according to a recent KLAS survey.
Epic Systems in particular experienced a surge in implementations in several countries due to its level of usability.
"With new contracts across Canada, the Netherlands, and Finland (a first), Epic was the most frequently selected higher-cost solution, due to robust clinical functionality and strong usability," wrote researchers.
Beyond EHR usability, value-based care calls for EHR systems with analytics capabilities that can accommodate the newest solutions for efficient care. In 2017, that means population health management.
Population health management
Population health management is a marriage of EHR technology and analytics that could mean big savings and improvements in patient health outcomes for providers.
KeyHIE Director of Operations Kim Chaundy spoke to EHRIntelligence.com about the impact their own population health management-centered solution—Information Delivery System (IDS)—has had on participating hospitals.
"We're actually seeing a huge cost savings for these practices," KeyHIE Director of Operations Kim Chaundy told EHRIntelligence.com. "We did a case study for just one month and found we're saving one practice $56,000.00 in one year, just through utilizing this service."
IDS has the capabilities to identify specific patient populations, notify providers when results or information related to certain patients is coming through the system, and identify qualifiers informing providers of what to do with to with this data. The solution also integrates directly into the provider workflow to boost efficiency.
Geisinger Health Systems Associate CIO Joe Fisne emphasized the importance of solutions capable of integrating into EHR systems and provider workflows.
"We route it directly into the EHR system, the patient's chart, and it follows the natural workflow," said Geisinger Health Systems Joe Fisne. "It follows their existing workflow — it's a new clinical document that needs to be reviewed and signed off on, but you don't have to physically touch that piece of paper or move that electronic chart to say where it needs to be filed. That's where the cost savings is."
Population health management solutions like these are becoming increasingly popular at major health systems across the country because of their positive effect on cost savings and patient health outcomes.
Health IT companies are beginning to take notice. In addition to HIEs and analytics solution vendors, companies that once focused solely on EHR technology have recently entered the population health management market with solutions of their own.
A recent Black Book survey explored how Allscripts, Cerner, Epic, and other leading health IT companies have expanded their product offerings to technology capable of stratifying risk, tracking patient movement across the care continuum, and monitoring value-based revenues.
"The activity and energy is high," says Black Book Research managing partner Doug Brown. "Clearly, the best articulation of this energy is coming from the leading electronic medical record (EMR) suppliers, namely Epic Systems, Allscripts and Cerner, that have previously provided fee-for-service (FFS) platforms and are now fully investing in new, non-FFS tethered platforms to manage population health."
Single solution systems will be the ticket to succeeding in a value-based care system, according to Black Book researchers. Specifically, EHR systems with the capabilities to support population health management will improve coordinated care and clinical efficiency.
"Population health is shifting the focus of healthcare from managing episodic encounters to managing individuals across the continuum," said Cerner Senior Vice President of Population Health Ryan Hamilton as part of the survey.
However, providers ultimately need to select an EHR system capable of meeting the federal requirements that signaled the shift to value-based care in order to find success.
MACRA-compliant technology
Among the federal regulations mandating performance measurement, quality reporting, and clinical documentation is a rule requiring ONC certified EHR technology (CEHRT).
The most up-to-date iteration of this certification is ONC 2015 edition CEHRT. 2015 Edition CEHRT was designed to encourage EHR interoperability and raise the bar for the overall quality of health IT.
"[T]he final rule enhances the ONC Health IT Certification Program by including provisions for more rigorous testing of health IT exchange capabilities, establishing explicit requirements for in-the-field surveillance and transparency of health IT, and by making granular information about certified health IT publicly available through an open data certified health IT product list (CHPL)," stated HHS in the 2015 Edition Health IT Certification Criteria rule.
"Developers can now begin developing health IT products, including EHRs, which they intend to have certified to the 2015 Edition certification criteria requirements," HHS continued.
However, after pushback from several healthcare organizations including HIMSS, CMS stated in the proposed rule it intends "to allow the use of 2014 Edition CEHRT, while encouraging the use of 2015 edition CEHRT."
While providers are not required to have 2015 ONC certified technology to meet QPP requirements in the second year of QPP, eventually the health IT certification regulations under MACRA will be enforced in full.
Implementing an EHR system with up-to-date health IT certifications can be helpful in meeting federal requirements. However, relying solely on certifications during the EHR selection process has its pitfalls.
Earlier this year, eClinicalWorks paid a $155 million settlement to resolve allegations it had misled consumers about the certification of its EHR technology.
Following the settlement, providers have become wary of EHR certifications and the truthfulness of health IT companies.
Ultimately, health IT product performance is what truly yields positive outcomes for both patients and providers.