Providers Look to Healthcare Analytics But Lack Strategy
Despite significant interest in leveraging healthcare analytics, few healthcare organizations have the necessary strategy for blending financial, operational, clinical, and other data effectively, according to a recent Deloitte Center for Health Solutions survey.
Comprising responses from CIOs, CMIOs, and senior leaders from 50 health systems, the survey also finds healthcare data analytics adoption and spending falling short of industry predictions despite support for leveraging these emerging technologies for value-based care.
"As the shift from fee-for-service (FFS) payment models to VBC continues — including Medicare's plans for increased value-based payments by 2018 — organizations will need to blend financial, operational, clinical, and other data to achieve their goals of improving quality, providing access, controlling cost, and managing provider networks," the report states. "A fragmented analytics strategy will not support effective integration of such data."
Overall, few health systems were capable of making use of healthcare analytics. According to Deloitte, less than half of respondents had a "clear, integrated analytics strategy"; one-quarter lacked an appropriate data governance model; one-third were unaware of their organization's spending on healthcare analytics; and one-fifth currently employed a decentralized model for healthcare analytics.
These realities will likely contribute to healthcare organizations getting the most value out of their healthcare analytics investments. "Organizations with a centralized strategy and governance structure will likely be best positioned to move from the promise of analytics to superior performance," the authors claim.
The Deloitte report contains findings similar to those published by Impact Advisors earlier this month. In the latter, researchers found that healthcare CIOs were looking to increase returns from EHR investments primarily related to clinical and financial outcomes.
On the subject of investment drivers, 75 percent of respondents surveyed by Deloitte reporting clinical outcomes, population health, and cost efficiencies to be the impetus behind their healthcare analytics investments. And starting to come into the picture for future analytics drivers were supporting new payment models, pursuing revenue growth opportunities, driving innovation and supporting research, and increasing consumer experience.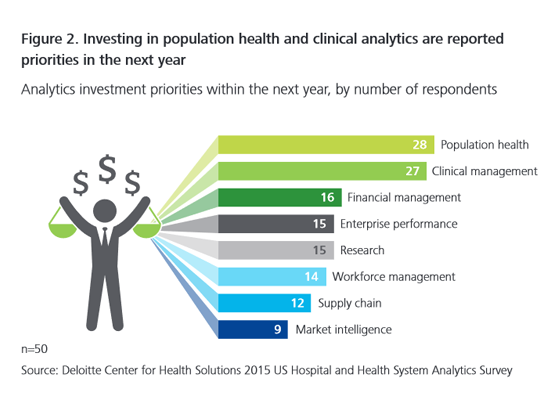 Over the next twelve months, investments in population health and clinical management were neck-and-neck as top priorities. In the middle of the pack were financial management, enterprise, performance, research, workforce management, and supply chain.
As for current healthcare analytics capabilities, reporting leads the way, followed by business intelligence and data warehousing. The being said, all are equal in terms of priorities over the next three years, with advanced analytics and forecasting to be added to the list. What's more, respondents tied advance analytics capabilities on the whole to clinical management and population health improvements.
A lack of knowledge of spending on healthcare analytics, however, could harm the success of adopting these functionalities moving forward. Fifteen respondents out of 50 reported that their organizations do not track their spending on healthcare analytics.
To mitigate these obstacles to leveraging healthcare analytics, the report includes recommendations for healthcare organizations:
• Engage and develop committed leaders across the enterprise who are committed to understanding and leveraging analytics to deliver superior results.

• Implement a structured data governance model and enterprise-wide analytics strategy.

• Manage analytics capabilities and investments to drive innovation and tangible value for functional business units and programs.

• Emphasize data and technology standards to promote interoperability and more efficient use of analytics resources.

• Recognize the cultural aspects of leveraging analytics to accelerate insight-driven results.
The full report is available here.

{/exp:hop_inject:injection}