Top EHR Vendors by Eligible Professional, Hospital EHR Use
A recent public use file released by ONC combines data from both the EHR Incentive Programs and RECs on EHR use.
Recent complaints about the EHR Incentive Programs have centered on meaningful use data and how it might inform EHR use moving forward.
While the Centers for Medicare & Medicaid Services (CMS) may not be able to appease all inquirers, data do exist that provide insight into EHR use tied to EHR vendor selection.
In order to demonstrate meaningful use, providers must attest using a certified EHR technology. To assist eligible professionals in their pursuit of EHR incentives, the Office of the National Coordinator for Health Information Technology established a regional extension center (REC) program to assist thee providers.
A recent public use file released by ONC combines data from both the EHR Incentive Programs and RECs on the EHR technology providers reported using.
All told, the PUF contains 15.2 million reported uses of EHR technology by eligible professionals and hospitals over more than four years, beginning in April 2011 and ending in March 2015. Of those use, the vast majority belong to EPs — 14.9 million uses compared to 220,280 hospital EHR uses. To put those numbers in perspective, eligible professionals and hospitals successfully completed 722,675 meaningful use attestations between April 2011 and November 2015.
While the file tracks reported EHR technology uses between April 2011 and March 2013, it does not specify the purpose behind reporting that fact. Numbers appear to peak at certain times, such as the end of the fiscal year, and indicate the reporting requirements of meaningful use. However, those details are not available.
Moreover, the total number of reported EHR technologies appears to grow for both EPs and EHs in a consistent pattern. Background on the PUF does not indicate whether the figures are potentially cumulative or double counted for providers working with an REC and also demonstrating meaningful use.
What is available paints a picture about competition between EHR vendors to expand their footprint in both inpatient and ambulatory settings.
Before jumping ahead, here's a breakdown of the total reported EHR technologies used by provider type. Up first, the figures for EPs.
EPs have the numbers, but it is worth noting that EHs take in the dollars so far as EHR incentives are concerned.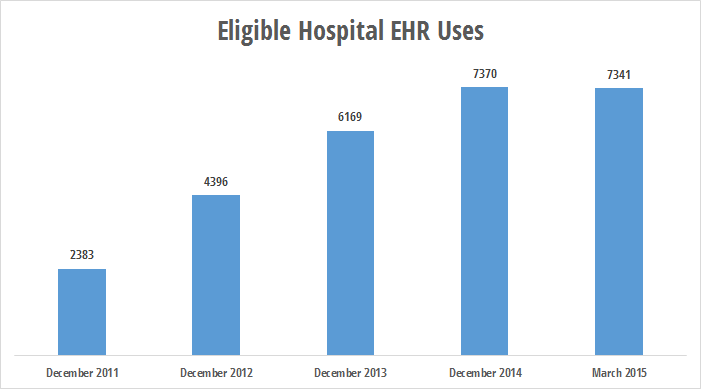 A year-over-year look at reported EHR technology uses by provider leads to a list of usual suspects. Who is on top depends on provider in question.
The EHR vendor most often linked with hospital EHR implementations actually maintained a firm hold over the ambulatory market based on the PUF.
Between December 2011 and December 2014, the number of EPs reported using Epic EHRs went from 24,092 to 109,310. Also close behind was Allscripts, whose total number of EHR uses grew in a similar fashion — 13,110 to 50,232— over the same period.
Over that same duration, eClinicalWorks and NextGen Healthcare contend for third and fourth spots. The latter ended 2011 in the lead only to be necked out by the former in subsequent years.
Epic's lead rival Cerner is among the top ten but generally on the bottom half of the table.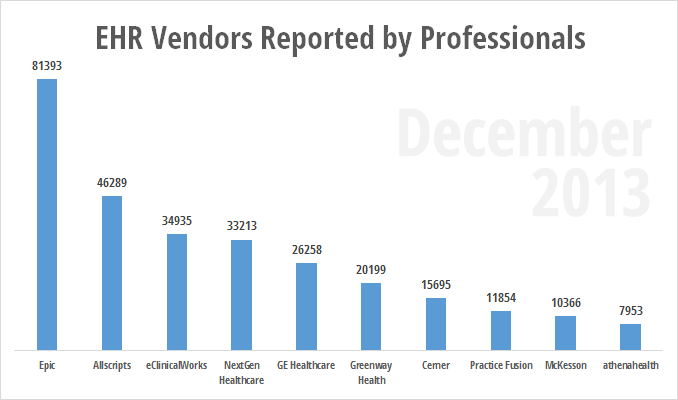 Cloud-based EHR vendors also featured among the top 10. Practice Fusion, the free EHR technology, consistently came out on top of athenahealth.
Hospital EHR use tells a different story over the same period. Back in December 2011, MEDITECH led the way with most reported EHR uses, edging out Cerner 394 to 371. Rounding out the top five during that month were Epic Systems (302), CPSI (242), and MEDHOST (156). HCA Information & Technology Services was not too far behind in sixth place (141).
The following year the margins between hospital EHR vendors grew. MEDITECH (717) remained ahead of Cerner (681) and together increased the distance between the third most used EHR vendor Epic Systems (509). CPSI, meanwhile, held on to its position in fourth (386), this time followed by McKesson (306).
One year later would be MEDITECH's last atop the list of reported hospital EHR uses.
As of December 2014, Cerner took the top spot, after leapfrogging MEDITECH by a sizeable margin over a one-year period — 1018 to 980. Those figures point to limited growth by the latter, whose reported EHR uses increased by 33 whereas the former grew by 143. Epic, meanwhile, narrow the distance between second-place MEDITECH and itself during the same time. Epic rose from 673 uses in December 2013 to 840 uses in December 2014.
The remaining data on reported hospital EHR uses shows the waxing and waning of other EHR vendors not name Epic Systems, Cerner, and MEDITECH. HCA Information & Technology Services started near the top only to disappear in subsequent years. CPSI and MEDHOST secured positions in the middle of the pack and experienced little significant growth over a four-year period.

{/exp:hop_inject:injection}